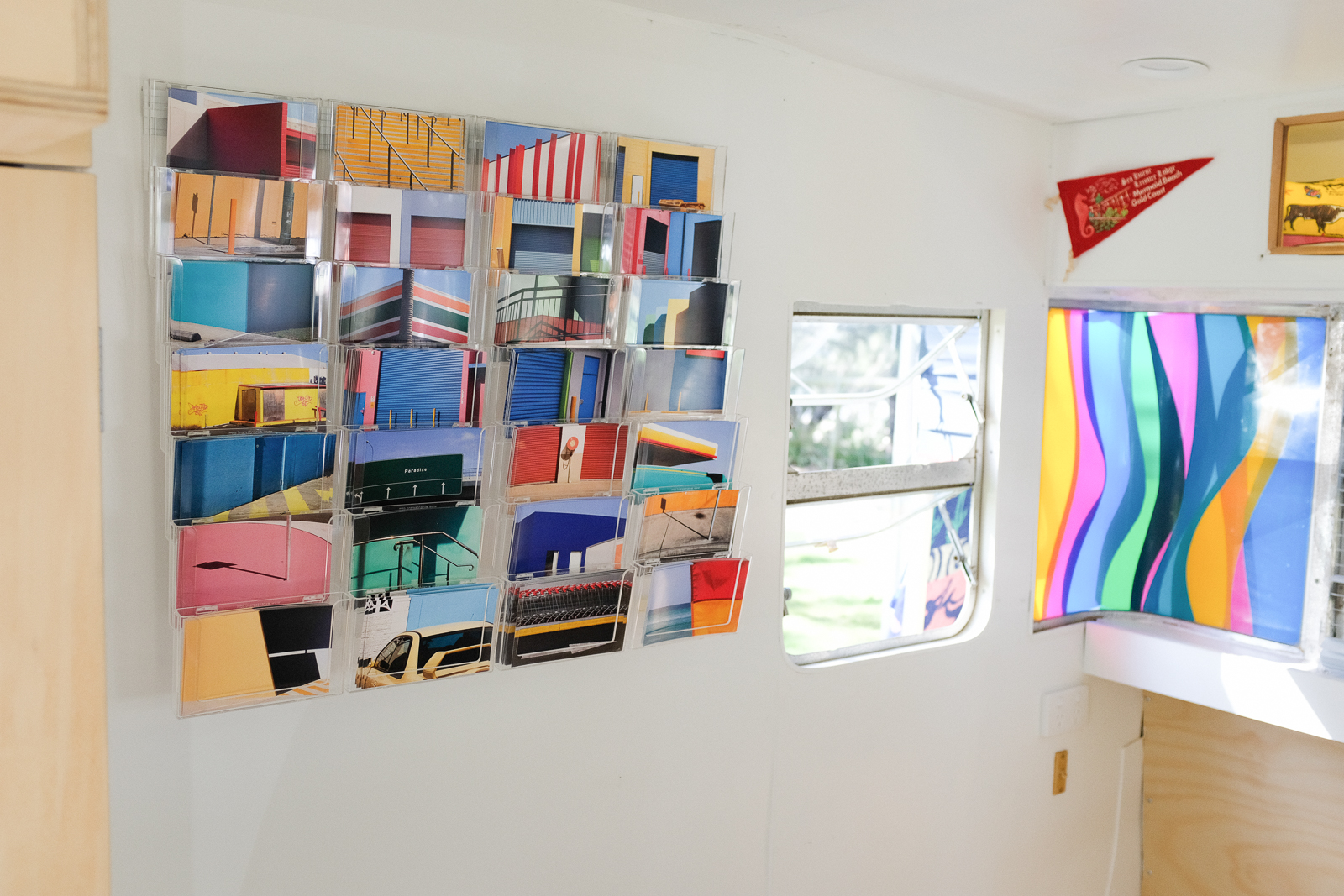 Film and Digital Photography Postcard Souvenirs - Printed on FSC Card Stock
Parallel City [2018]
The Gold Coast, subconsciously, is a place I have identified with since birth. My father was a hotelier. I was born in Denpasar, Bali and grew up living in hotel rooms. We moved back to Australia and the Gold Coast in 2000. I was ten years old, living at the Novotel in Surfers Paradise. Every afternoon after school was down to Cavill Avenue for a swim; a 50c cone from McDonald's. We moved around the city to places including Chevron Renaissance, depending on my father's job.
I believe my father's obsession for tourism also impacted my creative practice. My contemporary photography is largely concerned with architecture and urban landscapes; the everyday scenes that go unnoticed. This style of imagery is especially interesting for the Gold Coast as it documents the middle ground, or perspectives of the city seen by residents, not tourists.
Once graduating high school in Southport, I left my family home in Ashmore and began descending the coastline in search of something different. I started in Main Beach... moved to Palm Beach... moved to Tugun... moved to Kirra.
With photographers capturing our stretch of golden sand and the Pacific Ocean so beautifully, I also had to look inward to find difference. I wanted to cross the 2nd and 3rd highways and find those isolated elements to simplify my busy life in the busy city. Nearly all images were taken in the space bordered by the Pacific Motorway and Gold Coast Highway, where nearly all Gold Coasters live.
Meet Aaron Chapman
My photography combines a few different styles, namely minimalism and architecture. People call it different things. The Gold Coast is a beautiful place to photograph—the iconic skyline, the beaches and nature. But I like to find the isolated elements, often devoid of human interaction. My practice has become a reflection of who I am and how I fit into this city. As well as being a personal exploration into the basics of composition, colour and light, a lot of my practice is an ode to the sign makers, the mechanics and the concrete plant employees—the ones behind the scenes. Their buildings aren't flashy like the high-rises along the esplanade, but there's a certain and simple beauty that attests to the humility of their business. They demand no attention. They stand there on the fringes, out of sight, but go about as always, creating the foundations for the city.
DOB:
Denpasar, Bali, Indonesia, 03/09/1990
Where do you reside on the Gold Coast?
Kirra
What brought you to the Gold Coast ?
My parents, I guess. My Dad was a hotelier and we grew up on the road, hence my Indonesian birth. But we posted up on the Gold Coast once we came back to Australia. Dad was managing what was the Novotel then in Surfers Paradise.
What do you love most about the Gold Coast and making art here?
I love the uncertainty. The Gold Coast is on the rise. I think Gold Coast creatives have always felt that opportunities are far greater in the culturally rich and populated cities of Sydney and Melbourne, but recently, and I'm not sure if has something to do with the Commonwealth Games, it seems there's excitement in this uncertainty. The Gold Coast is a testing ground at the moment. And there's no, that's good art, that's bad art. I think the community on the Coast is very supportive of people just making art. We're finding our voice. Everything is still in front of us.
What does a souvenir mean to you?
To me, a souvenir is a memory, something temporal. Although I've collected hundreds of strange objects from around the world, their presence in my home isn't ornamental. If souvenirs are memories and emotions, then the objects themselves are the trigger. Souvenirs are milestones. Little reminders of who we were and ultimately, who we are. Those beads from New Orleans or that weird Jamaican wooden statue thing both represent wildly different times in my life. The beads are a plastic acid green. Why would I want them lying around my house? They're a really ugly decoration. But when I look at them, I see myself … 22 and driving around America, driving the road to this point in my life, finding my voice as a photographer and writer. The fact that the beads are from New Orleans is just a pixel in the bigger picture.
Do you have a memorable souvenir from the Gold Coast or another place you have been? And where might you find them?
They are strewn all around the house. I'm really trying to de-clutter my life but I'm having a hard time letting go of some things. Actually, my wife and I have a 'later life' box down in the garage. It's full of souvenirs from our travels but we thought we'd stash it away until we buy a place of our own and can hammer additional shelving into every wall of the house without dealing with rental agents.
Um, I really like this Tibetan bowl that's sitting on my bookshelf. I got it in India, not Tibet. My wife and I were travelling around India for several months. I've always said, as cliché as it seems, that India is and always will be a place associated with finding oneself. That was kind of the trip, you know. One chime would transport me back there with the heat and the smell and the dogs and smiles.
What's your perception of the souvenir in today's modern world?
I don't know. I think there'll always be a place for souvenirs in people's hearts. It just depends on what level. A lot of people I'm sure think souvenirs are just cheesy things you buy in Surfers Paradise, the one thing your child picks on their holiday to take home with them. They probably keep them for a while, outgrow them, throw them out. I'd like to know where souvenirs travel.
Perhaps the souvenir industry would shift if we learn to adopt souvenirs on an emotional level rather than a physical one, from practical mindsets rather than from consumerist ones. That could take a while. It might be easier if we, the makers, make it happen. If Gold Coast locals create souvenirs locally from local materials, then maybe tourists, collectors or whoever, can get behind our city's narrative. There's a relationship between the artist and their art that could better communicate a sense of place than any internationally made, Surfers Paradise salt and pepper shaker. I think this point is crucial.
How do you find your involvement with Super Souvenir exciting?
I'm really excited about Super Souvenir because I'll be on the opposite side. I can fill someone else's house with something that will hopefully have them one day reminiscing on their visit to the Gold Coast. But it could be for locals, too (I'm making a book, did I mention that?). The book will be documenting a brief history of our city through photographs of all the old houses along the Gold Coast Highway. These houses, mostly fibro, represent an essential part of the Gold Coast character. It's really important to recognise these landmarks, particularly with the current speed of development. I'll also write an essay to go with it. Anyway, this book is a way for me to give something back to the city I grew up in, by creating something for both tourists and locals alike. And in terms of creating a souvenir, a coffee table book is a great, practical object for both educative and aesthetic reasons.
Is there a favourite icon or place on the Gold Coast you love the most? And does it inform your work as an artist - if so explain?
I think the Gold Coast as a whole has informed my work as an artist. We have both ends of the architectural spectrum here; from fibro beach shacks to some of the tallest residential towers in the world, and everywhere in between. It's fascinating. It's forced me to look at everything objectively. With photographers capturing our stretch of golden sand and the Pacific Ocean so beautifully, I also had to look inward to find difference. I wanted to cross the 2nd and 3rd highways and find those isolated elements to simplify my busy life in the busy city. More on the 2nd and 3rd highways in the book …
:: FOLLOW AARONS JOURNEY ::
@aaronmchapman
www.aaron-chapman.com