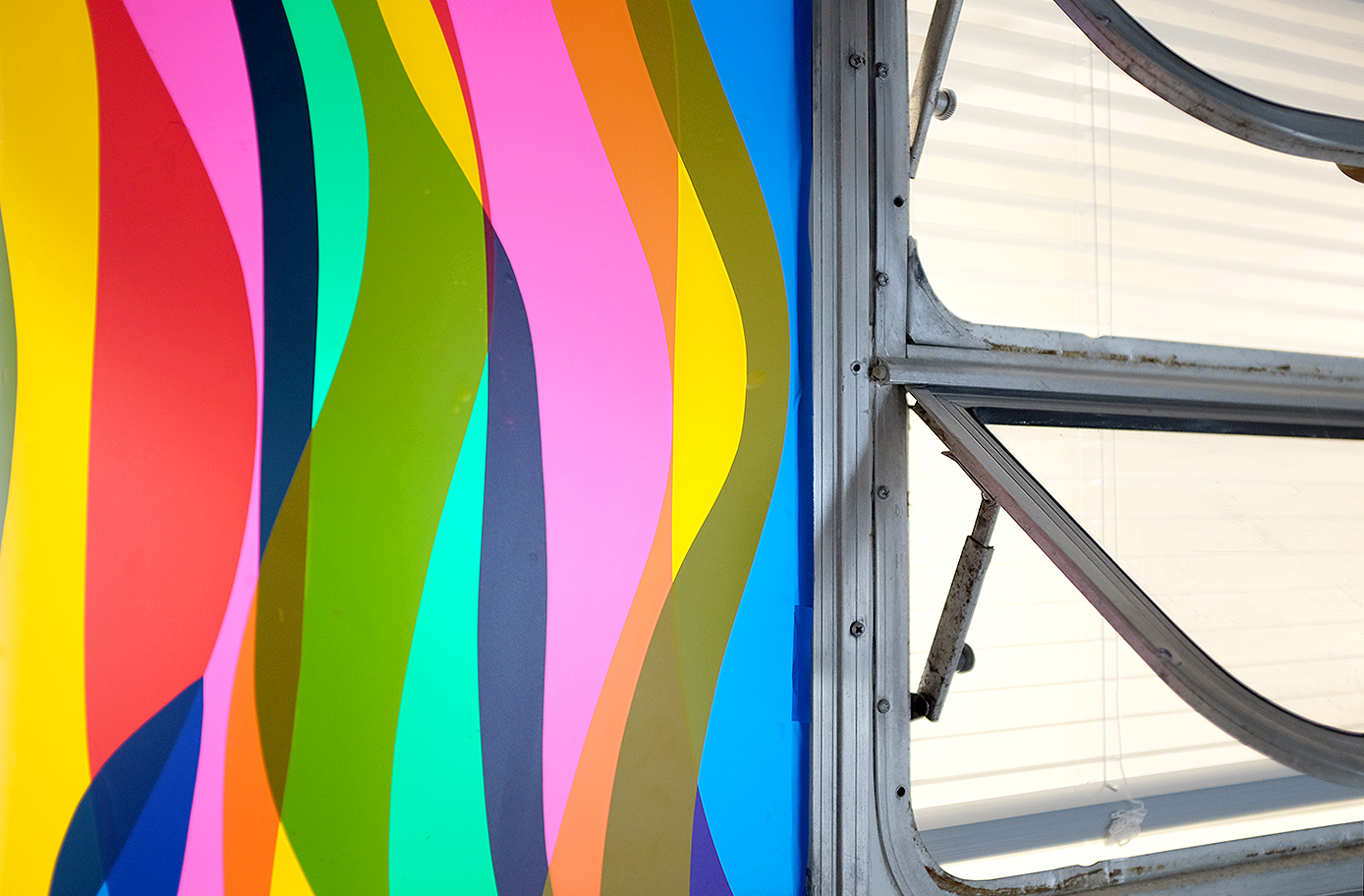 Adhesive Vinyl on Perspex (Viscount Windows)
Valerie's Trip to the Gold Coast [1965/2018]
'Valerie's Trip to the Gold Coast; New Orleans Motel, Surfers Paradise; Jack Evans Porpoise Pool, Coolangatta; Currumbin Sanctuary, Currumbin' 1965/2018
Mixed Media Collage in Original Caravan Drawers
Valerie's Trip to the Gold Coast [1965/2018]
+
Window Work [2018]
Gazing in to the drawers plays on the act of uncovering memories and artefacts; the same act was carried out by Valerie (my Mum) and I to find the photographs used in the collages. The collage backgrounds line the drawers and play on the pastime of scrapbooking to embellish memories. The found maps are drawn from my collage archive and link the photographs to the places where they were taken whilst alluding to trajectories Valerie took on her trip in 1965.
Window Work synthesizes a verbal description of the Paula Stafford bikini that Valerie purchased in 1965 with colours and shapes evocative of beach towels, umbrellas and seaside motifs. Both works draw from a longstanding practice of installation and collage within my practice that explore acts of mapping and site-specificity.
Rebecca Ross is an artist who's most recent works navigate and map out images of leisure, culture, fashion and architecture, whilst engaging in daily practices of walking, riding, skating, learning to surf, surfing the net and art making. The works are a culmination of studying, collecting and gazing at the slogans, pastimes and (web)sites that shape the place where I live and work on the Gold Coast, or, as it is known nationally 'Australia's Playground'.
DOB:
Melbourne. 1977
Where do you live on the Gold Coast?
Tugun, 4224
What brought you to the Gold Coast ?
My mum and my sister! Fun parks, lorikeets, yin yang symbols on surf boards, outdoor music festivals, giant letters on pseudo Hollywood hills that scream of high schools, cut-off denim, Miami, Mermaid, Magic Mountain, Surfers Paradise, Sanctuary Cove, a new start, degrees celcius, Heron Avenue, Headlands.
What do you love most about the Gold Coast and making art here?
Getting up early, climate, lifestyle, time, tide, sunshine, sunny times, sundays, dream worlds, sea worlds, sanctuary, surfing, space, seeing the horizon.
Do you have a memorable souvenir from the Gold Coast or another place you have been? And where might you find them?
I have collected a lot of maps over time; some are souvenirs from my overseas travels, some are maps of theme parks I have visited and then there are the Gold Coast ones which are reclaimed souvenirs from book and thrift stores which reveal the changing surface of our suburbs through the addition of streets, the subtraction of suburb names and the sculpting of spaces. All of them have become or have influenced my work.
Outline your ideas for what you are considering on making for the project?
For Super Souvenir I am producing a limited edition fantasy passport. Issued as a souvenir, a fantasy passport is a passport-like document that enables the holder to show an allegiance to a place. The Gold Coast Fantasy Passport will highlight zones of surf, sun, spirit and the superficial (or that which exists only on the surface) that can be found for free on the Gold Coast. It's a pocket-sized pass for site seekers to explore the GC. It's a guidebook and a notebook that gives the bearer the agency to map out their sunny and shady experiences of the Gold Coast.
:: FOLLOW REBECCA'S JOURNEY ::
@art_basil_miami
www.rebeccaross.com